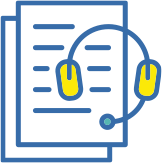 myONcore has partnered with NRCSA to provide services to member and non-member schools in Nebraska. For any school district or ESU to contact myONcore, they can contact NRCSA Executive Director Jack Moles to be placed in contact with myONcore.  Your district will contract directly with myONcore for the services you choose.
myONcore is a Registered Dietitian consultation service and online menu planning solution.
The service includes:
Evaluation completed by myOncore's registered dietitians
Customized plan based off evaluation findings and district goals
Nutritional analysis of unique items/recipes uploaded to the district's myoncore.com account
Free access to customized myoncore.com online menu planning software
Hands-on training on myoncore.com that clearly displays and teaches federal guidelines
Menu development and review to ensure compliance
Help preparing for an administrative review
Receive additional consulting support, as needed by the district.
myONcore.com features tools to:
Build daily, weekly, and monthly menus
Visually see whether your menus are compliant
Borrow compliant menus
Calculate serving and meal costs
Access thousands of manufacturer items, standardized recipes, and commodities
See per-calculated nutritional and meal pattern information
Generate reports for:

Weekly compliance
Order inventory
Production Records
Multi-Day production records
 
Store production records digitally
Receive personalized training and customer support
The benefits of myONcore include:
Reduced workload for the district's food service director
Further understanding and learning of federal guidelines
Ensuring menus are compliant with USDA guidelines
Increased student participation and nutritional quality
Better cost and inventory control
Improved staff efficiency