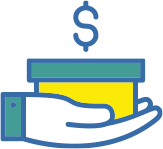 Project Fit America
Project Fit America is a grant program for rural schools with 50% or more free and reduced lunch, with funding from Blue Cross Blue Shield of Nebraska. Since 2007 Blue Cross Blue Shield of Nebraska has partnered with PFA to help achieve their mission and commitment to healthy children through prevention and health education.
The PFA health and fitness program is designed to enhance and augment programs that are currently taking place in your school and not to replace any efforts that have already been launched in your area. Past rural grant recipients include Cozad Elementary School, Cozad NE, Bayard Elementary School, Bayard NE, Superior Public Schools, Superior NE, and Shelton Public Schools, Shelton NE. These schools serve as reference and demonstration sites for the program.
PFA is a non-profit organization dedicated to providing funding and support to public and private elementary and middle schools to increase broad based fitness in education and create new opportunities for kids to become active, fit, and healthy. All programs are school-based in their development, provide teacher training at each school site, a flexible curriculum, indoor and outdoor exercise equipment, lesson plan support materials, and on-going support for a two-year period.
This is a $16,500 grant that is available to elementary and middle schools. Application materials become available in March and the deadline for submissions is typically in May.