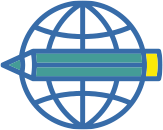 NRCSA has a contract for Global Teletherapy to work with member and non-member Nebraska school districts.  For any school district or ESU to contract with Global, they can contact NRCSA Executive Director Jack Moles directly to be put in touch with Global director Alan Goode.
Global Teletherapy provides online therapy services or "telepractice" via high-resolution video-conferencing. Telepractice in many ways is just like face-to-face therapy, but instead of sitting in the same room, the clinician and student communicate via high-resolution, live video conferencing. During therapy sessions, the student and therapist can see, hear, and interact with one another in real-time, using webcams, headsets, and a live, synchronous online learning environment. Licensed speech-language therapists use traditional speech therapy techniques and activities through innovative software and tools, and have the technology literally at their fingertips to plan and deliver high-quality services.
School districts maintain control over IEP plans and therapists employed by Global report to personnel employed by the district.
For more information visit: https://globalteletherapy.com/
Benefits for The Schools and Administrators
Provides viable, evidence-based and cost-effective therapy (including Medicaid approved)
Eliminates transportation expenses and staffing agency premiums to find therapists
Provides access to a national network of top-quality therapists, perhaps for less money
Alleviates recruiting, screening, training, and managing SLPs
Frees up time for other critical educational priorities
IDEA compliant reduces complaints, mediation, and due process hearings.
Streamlines administrative functions and tasks through the digital services provided
Maximum flexibility regarding when and where therapy sessions take place
Easier to find culturally and linguistically different therapists when necessary
More efficient treatment by matching special needs students with specialty therapists
Ensures continuous therapy even when SLPs are absent, on leave, or move
Benefits for The Kids
Enjoyment of digital learning, games and video interactions enhances success
Eliminating barriers to distance and mobility increases consistency with the therapist
Home environment provides more comfort that may increase a child's participation
Less intimidating than face-to-face therapy for shy, more reserved children
Benefits for The Parents
Option to monitor sessions in real time
Eliminates hassle of traveling and babysitters when therapy is received at home